Another Christmas in Saskatoon, and this one will be my last. I'm going east to start a new life. New job, new province, new accommodations. It will be fun and a little scary but I'm looking forward to it.
So it's Christmas day. Last night I looked at the weather app on my phone. It was calling for -30C with an extreme cold warning. I woke this morning and it was a somewhat lesser severity of -27C, with an extreme cold warning. With wind chill, feels like -38. These are the temperatures, that without doubt can cause frost bite within minutes in a breeze and unprotected skin. I've had some interesting moments in the cold weather in the past.
Here's a notice the city put out about homeless people in Saskatoon this weekend:
http://www.cbc.ca/news/canada/saskatoon/saskatoon-cold-homeless-1.4463794
In my almost 10 years in Canada, I've experienced weather cold enough to have my nose go completely numb (the soft fleshy part) in about 2 minutes. Many times my fingers have gone numb and many times my cheeks have gone numb. Then there was that time I went for  a jog – it was about -15C, and I was out for about half an hour. I could not feel the skin on my stomach. That was unsettling. It had the feeling of rubbing my tummy with a sweater on it. The skin was numb but I could feel pressure underneath. I was a bit scared by that and got inside and it all returned to normal soon enough.
Very cold weather can kill you without a doubt. I've only been really worried a couple of times. one time I had bought some new track pants (sweats) and gone for a walk in my neighborhood. It was only about -15C but there was a breeze. By the time I got to the end of my street I realised that I did not have enough layers on my legs. I kept on walking. I was only ever about a kilometer from my home, but I spent most of that walk wondering if a person can succumb to hypothermia if their top half is warm but their legs not protected. I did make it back home and my legs were red raw with 'freezer burn'.
The other time was when I went out on the town golf course. I was snow shoeing. I was dressed athletically but not for extreme cold. There was no one around, just me and my dog. I had been recovering from a cold/flu thing so I don't think I was 100% healthy which did not help. I got way out on the walk and was about 20 minutes from where I had parked. The cold had started to set in. It was seeping in through my inadequate layers. I started to imagine being found on the golf course, frozen to death. I started to wonder if I felt a bit wobbly because of the cold – was this the first stages of hypothermia? I was on the look out for confusion, disorientation, shivering etc. I didn't know if I was symptomatic or whether this was a product of my paranoid mindset at the time.
I did make it back to the car that day. Boy, was I glad and relieved…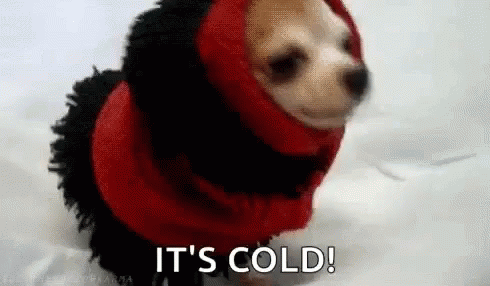 So this morning, with the deep cold, I decided to go for a walk, a long walk with the dog. I put on two layers of long johns, and track (sweat) pants. I wore a tank top, shirt, hoodie (sweater) and a winter jacket over that. I had a toque (beanie, hat), a fleece sort of hoodie cover and pulled the sweater hoodie over that. I had a thin pair of gloves under a thicker cold weather pair of gloves, and snow boots. I put a kids shirt and sweater over the dog, and rolled up the sleeves so only her paws were sticking out of the sleeves.
I walked to the end of my street and onto a park. There was no one out walking, not a soul (wonder why???). I could feel the cold seeping in but was fairly mild, not overwhelming. I kept walking. Once in a while I would check in with myself. Any numbness in the fingers, cheeks, nose? I pulled my toque down and my face cover up so only my eyes were exposed. The thing about walking in the cold is, as far as you get away from home, you need to walk that far to get back. Finding out half an hour into your walk that you are not warm enough and getting colder, is downright dangerous!
I wasn't sure what was going to happen, so I kept on walking. I walked, and walked, one foot in front of another. I made it up onto Broadway. I was only a few blocks from the river, which was my sort-of goal. The sun had come up and was providing a least a few degrees of warmth. I walked down by the river trail for a little while. A curtain of steam was rising off the river, it being very cold, but probably a lot warmer than the frigid air.
The sleeve of the sweater that I had over the dog was rolling down and flapping over her paw. I had to stop, bend over and roll it back up a couple of times. I got back up and felt a sort of swaying dizziness, just a mild sensation. Did I get up too fast or is this what happens after walking for a couple hours in extreme cold? Turns out I was ok.
I made my way down the city residential streets and eventually, eventually made it back to my house. I didn't get any photos. I kind of figured that experiencing this walk and the beautiful sights of the city bathed in gentle morning light should remain just as it was, in my mind.